http://storagecow.eu/index.php?dir=Xda%2FLG+G4%2F
The Files are Hosted on my server for fast speeds! Most if not all NEEDED KDZ files are on my Server

1). Download all The Files Below!

1) Firmware Files - Click HERE!
Or Here LGKDZ.com for your exact match KDZ for your model
2) Download LG Drivers - LG Drivers Here - 10.9 Mb
2.1)Verizon Drivers (Verizon Only)LG_VZW - 7.8 Mb

3) Download LG Flash Tool 2014 tool and extract - LG_Flash_Tool_2014.zip - 3.1 Mb

4) Enter to Download Mode and plug USB into your PC

5) Run LGFlashTool2014.exe and do as following pictures :
(If you cannot run LGFlashTool2014.exe, please install Visual C++ Runtime Library) - Download HERE
Normal Flash: Flash ROM without losing any data. Only use this when you need to fix system error. Beware of boot loop when flashing ROM that differ from current ROM on your phone or MOD ROM.
CSE Flash: Choose this option when you need a fresh format. All data will be gone. It's suitable for upgrading or downgrading ROM or simply use this when you need to back to Stock.



No need to choose desired language, it automatically change to English as a default setting.



Wait until 100% to complete !


REMEMBER if you get Bootlooping after flashing perform a factory hard reset!
Instructions Here: https://support.t-mobile.com/docs/DOC-7590

__________________________________________________ __________________________________________________ ___________________________

2015 (updated with pictures) TOT Method!
RETURN TO STOCK TOT METHOD!, AT&T, T-Mobile, Sprint, Verizon, & a The few International TOT`s that are available
How to Flash YouTube Video:
1.
Download Everything!
1.1) Download Both Stock Image & DLL File –
Download Here
1.2) Download LG FlashTools V1.8 -
Setup_LGFlashTool_1.8.1.1023.exe - 9.3 Mb
1.3) Download Drivers (Any LG Phone) -
Here
(Verizon Only) –
Here
1.4) Megalock DLL File -
Megalock.dll Download
Install:
2. Install LG Drviers
3. Install Flashtool (Don't run it yet)
4. Extract the TOT file from the Zip
5. Copy MegaLock.dll file to C:\LG\LGFlashtool (This might be a hidden folder so enable "hidden folders". Replace the old MegaLock.dll file)
6. Power off your Device & or pull battery (G3),(G Pro),(G Flex)
7. Press and hold the Vol UP Key and plug in the USB cable to your phone you should now see "Firmware Update/Download Mode" and be in Download mode.
8. Open up Device Manger on your PC
8.1) Click on ports and double click LGEModem
8.2) Go to Port Settings Tab and click Advanced
8.3) Change COM Port to COM41 and click Okay.
8.4) After this you may need to rereboot your phone back into download mode.
9. Run LG Flashtool as Administrator
10. Select Manual Mode at the top
11. Click The DLL Box and choose the DLL file from Above meant for your device
12. Click the S/W box and select the firmware file with the .tot extension, Then Click OK when done.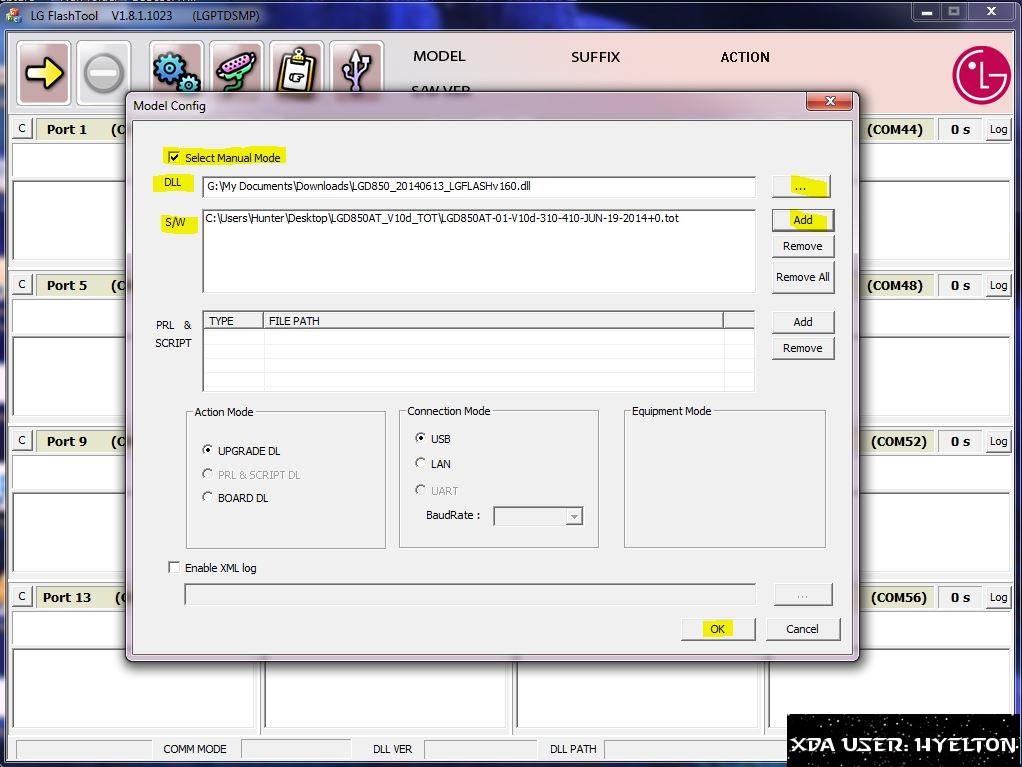 13. Now Click the Yellow Arrow Button at the top left, The Firmware install will be triggered

14. You may need to unplug/replug phone before Firmware install will start (If it does nothing after clicking the yellow button
15. Should take anywhere between 4-8 Minutes, When its done your phone should reboot
16. LG G3 Only, After reboot you will be presented with a Factory reset screen, Just pull battery and put it back in and it should boot right up!
Do NOT Close the FlashTool Window during firmware update.
99% of the time FlashTool will FAIL after 85% anything after 85% is just your phone rebooting so your safe